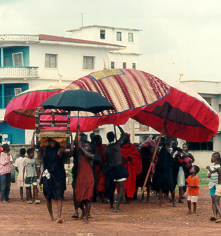 Akan Chief's Umbrella Finials
In 1817, the British envoy Thomas Bowdich visited the Asante court at Kumasi, where wide boulevards and public grounds hosted majestic royal processions, state ceremonies, and ritual observance. Bowdich's account of the capital contains detailed descriptions of court members, sword and umbrella bearers, performers, horses, palanquins, and—most stunningly—the glint of gold touching nearly every object. Charged with securing British colonial control in the region, Bowdich was especially captivated by regalia like the dazzling gold staffs (akyeame mpoma) and pendants that marked rank.
The umbrella is an important political emblem for Akan chiefs. The umbrella indicates who the king is among a gathering of people as reflected in the aphorism: Nea kyiniie si ne so na oye ohene - He who has a umbrella over his head is the king.
The umbrella is a symbol of the protection the king is believed to provide for the nation. Fraser (1972) notes that "these huge objects are both practical sunshades and symbolic, quasi-architectural, space-defining forms that help express the chief's role as ruler." When the king dies, it is metaphorically said that "Nana has removed his umbrella, we be scorched to death by the sun - Nana atu ne kyiniie, awia na ebeku yen."

Video Link