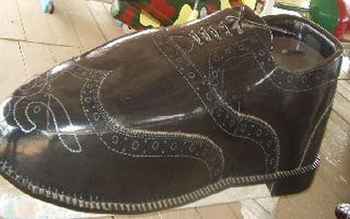 Fancy Coffins
Fancy Coffins

A burial in Ghana is by no means an ordinary one. That's because each coffin is a small art work, reflecting the fantasy of the local craftsmen. The local habit forces the family to spend a lot with the "throne" (coffin) so that to commemorate and tell the life story of the deceased person. Craftsmen around Accra, the capital of Ghana, specialize in making wooden imaginative coffins for this purpose. The coffins usually speak about a detail, a significant fact, a symbol of the dead, illustrating the profession, hobbies, social status of the dead.

They come in a variety of corpse-sized styles: in the shape of fish, elephants, guns, sewing machines, pens, Bibles, guns, airplanes, cars, Coca Cola bottles, beer bottles, cacao beans, peppers, lobsters, ears of corn, cell phones, tractors, microphones, roosters, cigarettes, even replicas of stores.

Pretty much any object or thing you can think up. They are painstakingly painted, meticulously designed, and even in the face of death, strikingly lifelike. My favorite was a shiny, polished uterus made for a deceased gynecologist. Coffin shaped like a shoe

The Power of Symbols

The Ga may be a Christian tribe, but they know the primordial animist power of symbols, those immense unspoken icons that were downloaded into our DNA and created before the world was born. The Ga's caskets are a direct, unflinching correlation to the person's life – their work, their passions, their vices, their quirks.

Corpses are curled up or folded into these awkwardly-shaped homes of the afterlife, and the casket makers must certainly lament that their prized art is buried deep underground after so many back-breaking weeks of workmanship. It's like a daily funeral for their own creations. In a country where many people live on barely $2 a day, no expense is spared for the most important part of life: death.
Video Link