Mission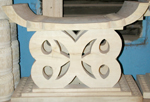 The mission of the Center for Indigenous Knowledge Systems (CEFIKS) is to examine, preserve, adapt and utilize the local knowledge of various communities and people in Ghana and the West African region.

Vision

Our Vision is excellence in creating cultural awareness and the celebration of indigenous cultural and family values.

Our goals are: Recovery of indigenous Knowledge from local and archival sources for the benefit of our future generations. Replanting Indigenous Knowledge among students, scholars and the general public.

Strategy

The strategy for accomplishing this mission includes, but not limited to

1. Research CEFIKS will:

* act as a clearinghouse for collecting, compiling, documenting and disseminating information regarding indigenous knowledge on agriculture, natural resources management, food systems, traditional medicine and health systems, and arts and crafts;

* conduct inter-disciplinary research on indigenous knowledge systems and the transfer of indigenous knowledge systems, and initiate a long term effort to promote the exchange of such knowledge within Ghana and with the outside world;

* facilitate collaboration between researchers and practitioners of indigenous knowledge systems, establish district and regional indigenous knowledge centers within Ghana;

2. Education CEFIKS will:

* popularize and spread the use of indigenous knowledge through print and electronic publications, seminars, workshops, and conferences;

* share the results of its research to interested individuals and organizations.

If you want to comment on any of the posts or articles on our site you can join the conversation online -
Like us on Facebook and
Follow us on Twitter - cefiks@cefiks_cfiks

Copyright 1998, 2001-2010, 2011-2015. All rights reserved. No part of work on this website may be reproduced or distributed in any form or by any means or stored in a database or retrieval system without the prior written consent of the Centre for Indigenous Knowledge Systems (CEFIKS) and K. Arthur. If you are interested in obtaining copies, reproductions or permission for use beyond "fair use" you must obtain permission from CEFIKS.

The information contained in this website is for general information purposes only. The information is provided by CEFIKS and while we endeavour to keep the information up to date and correct, we make no representations or warranties of any kind, express or implied, about the completeness, accuracy, reliability, suitability or availability with respect to the website or the information, products, services, or related graphics contained on the website for any purpose. Any reliance you place on such information is therefore strictly at your own risk.

In no event will we be liable for any loss or damage including without limitation, indirect or consequential loss or damage, or any loss or damage whatsoever arising from loss of data or profits arising out of, or in connection with, the use of this website.